Soube-se esta manhã que as autoridades americanas colocam em causa os últimos dados apresentados pelos cientistas da Universidade de Oxford, parceira da AstraZeneca no desenvolvimento da vacina desta farmacêutica.
Esta revelação vem reacender a polémica recente sobre as interrupções de aplicação da vacina em vários países europeus, incluindo Portugal.
Se a interrupção da aplicação da vacina foi vista no UK como uma retaliação da UE no processo controverso de distribuição das vacinas daquela farmacêutica, colocando em causa a eficácia da vacina AstraZeneca, o que dirão agora os britânicos da notícia hoje divulgada procedente do amigo do outro lado do Atlântico?
----

Whether the company reported rosier data than it should have is unclear
A BAFFLING CONTROVERSY has unfolded over AstraZeneca's covid-19 vaccine. On the morning of March 22nd, the company announced positive results about the jab's safety and efficacy from a clinical trial with 32,000 people conducted mostly in America. But late that night the National Institute of Allergy and Infectious Diseases (NIAID), an American government agency that funded the trial, issued a vaguely worded statement that questioned the company's announcement. AstraZeneca, it said, "may have included outdated information" which "may have provided an incomplete view of the efficacy data".
Not much clarity has emerged so far, officially. On March 23rd AstraZeneca (which developed its jab with a team at Oxford University) responded that the results in question were from a "pre-specified interim analysis" of data up to February 17th. Such reporting milestones are standard in clinical trials. The company promised to publish more data within 48 hours. A preliminary analysis of that forthcoming data, it said, had found that the results were "consistent" with what it published.»
--- act. 25/03
Covid-19. AstraZeneca baixa eficácia da vacina para 76% após estudo nos EUA
A farmacêutica reviu em baixa a eficácia da vacina: os primeiros dados davam conta de uma eficácia de 79%; os últimos de uma eficácia de 76%. Os EUA registaram mais de 30 milhões de casos desde o início da pandemia. A partir das 00h de sexta-feira deixa de ser possível circular entre concelho. - aqui

---- act 25/03
'One mistake after the other.' How AstraZeneca went from pandemic hero to villain - aqui

London (CNN Business)After teaming up with Oxford University, AstraZeneca produced a safe and effective Covid-19 vaccine in just nine months, a huge achievement that will help end the pandemic. But a series of missteps along the way has led to scathing criticism from policymakers and health officials, tarnishing the company's image as a hero of the coronavirus era.
The Anglo-Swedish drugmaker mistakenly gave some volunteers a half dose of the vaccine during clinical trials, and it has been criticized for omitting crucial information from its public statements. US regulators have questioned the accuracy of its vaccine data, and severe production delays in Europe have resulted in a political firestorm and a breakdown in relations with EU leaders.
"What we have with AstraZeneca is a company that is not straightforward, that cannot be relied upon," Philippe Lamberts, a Belgian member of the European Parliament, said in a radio interview with the BBC on Wednesday.
AstraZeneca's

(AZN) failure to deliver tens of millions of promised doses to the European Union, which is struggling to roll out vaccination programs, led the bloc to impose export restrictions that have already prevented at least one shipment of vaccines to Australia. Leaders could move to make the restrictions even tighter Thursday.
Meanwhile, the US National Institute of Allergy and Infectious Diseases expressed concerns earlier this week that AstraZeneca had presented "outdated" data from a trial of the vaccine's effectiveness. Dr. Anthony Fauci, the agency's director, called it "an unforced error" that could erode trust in a "very good vaccine."
AstraZeneca updated its data on Thursday, reporting that the trials showed its vaccine to be 76% effective in preventing Covid-19 symptoms. Earlier this week, it had said its shot was 79% effective. The rare rebuke from US regulators was a major blow to the company's credibility.
"They've made one mistake after the other," said Jeffrey Lazarus, head of the health systems research group at the Barcelona Institute for Global Health.
Leap of faith
AstraZeneca entered the Covid-19 crisis with little vaccine experience. In recent years, it generated a large portion of its revenue by producing popular cancer drugs, such as Tagrisso, which is used to treat lung cancer.
But when the pandemic hit, the company decided to enter the race to develop a game-changing shot.
"I don't think they ever had any intention to be a vaccine company," said Andrew Berens, a pharmaceuticals analyst at SVB Leerink. "I think that the reason they embarked on this — and they've been pretty apparent about it — is they wanted to help humanity and fight the scourge of Covid."
The efforts paid off. AstraZeneca received emergency use authorization from the United Kingdom in late December and the European Union one month later. Because the vaccine was cheaper and could be stored at higher temperatures than ones developed by

Pfizer

(PFE) and

Moderna

(MRNA), it was heralded as a breakthrough, particularly for less affluent countries that may lack sophisticated logistics networks.
AstraZeneca generated more goodwill by pledging to supply its vaccine at no profit during the pandemic, and by partnering with the Serum Institute of India, which agreed to produce more than 1 billion doses for low and middle income countries.
"They came into an area they're not known for and they did really well," Lazarus said.
Misstep after misstep
Almost immediately, however, problems started cropping up. Before AstraZeneca's shot received emergency use approval, the company faced questions about data from large-scale trials presented in November.
Volunteers received different doses due to a manufacturing error, creating confusion about its actual effectiveness. AstraZeneca did not mention that a mistake caused the dosing discrepancy in its initial announcement, generating concerns about a lack of transparency.
"I hate to criticize fellow academics, or anyone for that matter, but releasing information like this is like asking us to try and read the tea leaves," Dr. Saad Omer, a vaccine specialist at the Yale School of Medicine, said at the time.
In January, Germany's vaccine commission said AstraZeneca's shots shouldn't be given to people older than 65, citing insufficient data for the age group. France also initially limited AstraZeneca vaccines to those under 65. Both countries changed course earlier this month.
Lazarus called such issues "easily avoidable," since they were tied to trial design.
AstraZeneca has said that its clinical data supports efficacy in the over-65 age group. In an interview in January, CEO Pascal Soriot said that Oxford scientists running the trials did not want to recruit older people until they had "accumulated a lot of safety data" for those aged 18 to 55.
Had the vaccine rollout been smooth, such stumbles may have been forgotten. But continued shortages of shots in Europe, which is now facing a third wave of coronavirus infections, have triggered a political crisis in the bloc. EU leaders are meeting Thursday to decide whether to adopt European Commission proposals for even stricter controls on the export of vaccines made in the bloc, including AstraZeneca's.
"We have the option of prohibiting a planned export," European Commission President Ursula von der Leyen said in a recent interview with German publishing group Funke Mediengruppe. "That is the message to AstraZeneca: You first fulfill your contract with Europe before you start delivering to other countries."
European countries have expressed frustration that the United Kingdom appears to have been prioritized for delivery while it faces shortfalls, and that, unlike others, they have been sending tens of millions of doses abroad.
Frustrations boiled over this week after 29 million doses of AstraZeneca's vaccine were discovered in a reported "raid" on a factory in Italy.
A spokesperson for AstraZeneca rejected reports that the doses were part of a "stockpile," saying that the vaccine was made outside the European Union and that it had been brought to the factory to be filled into vials before distribution within Europe and export to low and middle income countries.
EU Commission Vice President Valdis Dombrovskis said he could not comment on the origin or potential use of the doses reportedly discovered in Italy, but noted that the drugmaker is "very far away from their contractual commitments."
Some politicians, and media outlets, may be looking for a scapegoat as vaccination programs stumble.
Yet Simona Guagliardo, an analyst with the European Policy Center, said AstraZeneca's delivery delays have "certainly played a role in slowing down the rollout across Europe."
"What appears clearly is AstraZeneca may have overpromised in terms of distribution compared to the effective production capacity," Guagliardo said.
Tough path forward
According to Prashant Yadav, a medical supply chain expert and senior fellow at the Center for Global Development, AstraZeneca seems to have spread itself too thin, with a far-reaching supply chain that's more likely to run into hiccups than those powering vaccines by Pfizer and Moderna. AstraZeneca touts having built more than a dozen regional supply chains to produce its vaccine, with more than 20 partners in over 15 countries.
It's also more difficult to predict how much vaccine can be produced from batches of AstraZeneca's product due to the type of components it contains, Yadav added, though that variability perhaps could have been anticipated when drawing up contracts. AstraZeneca did not provide comment for this story, but it has cited "lower-than-expected output from the production process" as a major complication in Europe.
"As our teams learn from each other and improve their knowledge, the yield is increasing," Soriot said in February. "Manufacturing of a vaccine is a very complex biological process."
Not all of AstraZeneca's headaches have been the result of corporate blunders, Lazarus observed. He does not fault the company for fears about side effects like blood clots, which caused more than a dozen European countries to pause vaccinations earlier this month. The European Union's regulator conducted an urgent review last week and concluded again that the vaccine is safe to use.
But other concerns — like the alleged misrepresentation of data in its recent US trials — have undoubtedly damaged the company's reputation, especially in comparison to other drugmakers that have produced safe and effective vaccines but generated fewer negative headlines.
Ronn Torossian, CEO of 5W Public Relations, noted that AstraZeneca's slip-ups come at a time when distrust of authorities and the benefits of vaccination remain high, raising the stakes.
"The public's already skeptical," he said. "I think it's a very, very difficult thing for AstraZeneca to solve at this juncture."
Berens of SVB Leerink thinks the company will be able to move past these problems — especially since making vaccines isn't a business it relies on to make money.
Shares are down more than 2% so far in 2021, lagging gains on the

FTSE 100

(UKX), but Pfizer's stock has also lost ground since the start of the year,
But Berens does wonder: If AstraZeneca could go back in time, would it choose to get involved in resource-heavy vaccine production again? On that count, he's not so sure.
— Chris Liakos contributed reporting.
--- 30/03
Canadá suspende vacina da AstraZeneca em menores de 55 anos - aqui
O Canadá vai deixar de administrar, temporariamente, a vacina da AstraZeneca/ Universidade de Oxford a menores de 55 anos. A decisão foi tomada esta segunda-feira após uma recomendação da Comissão Consultiva Nacional para a Imunização, que alega "razões de segurança". Os especialistas temem que a vacina aumente o risco de formação coágulos sanguíneos.

"Existe uma incerteza substancial sobre os benefícios de administrar a vacina da AstraZeneca contra a covid-19 a adultos com menos de 55 anos, devido aos riscos potenciais", afirmou Shelley Deeks, vice-diretora do Comité, citada pela imprensa internacional.
Os receios dos especialistas aumentaram após terem sido conhecidos dados provenientes da Europa, que sugerem que o risco de formação de coágulos sanguíneos é de um em cada 100 mil casos. Até agora, o risco considerado era de um em cada um milhão de casos.


Segundo a organização canadiana, a maior parte das pessoas vacinadas com a AstraZeneca que desenvolveram coágulos sanguíneos são mulheres com menos de 55 anos. A taxa de mortalidade nestes casos é de 40%. Até ao momento, não foram reportados casos no Canadá. Na província de Ontário, a mais populosa do país, só maiores de 60 anos foram vacinados com a AstraZeneca.

Joss Reimer, um dos responsáveis pela task force de vacinação no Canadá, diz acreditar que os "benefícios da vacina, em todas as idades, ultrapassam os riscos". No entanto, os especialistas querem receber mais dados da Europa para avaliar "ao certo" o grau de risco.

Há duas semanas, a vacina da AstraZeneca esteve temporariamente suspensa em vários países europeus, incluindo Portugal, devido aos receios em torno da formação de coágulos sanguíneos. A vacinação foi retomada após a Agência Europeia de Medica
--- 30/03

Região de Berlim suspende vacina AstraZeneca após nove mortes na Alemanha - aqui

As autoridades alemãs detetaram 31 casos de trombose em pessoas que receberam a vacina contra a covid-19 da AstraZeneca, das quais nove morreram, e o estado alemão de Berlim voltou a suspender o fármaco para maiores de 60 anos.

O Instituto Paul-Ehrlich, centro de referência em vacinação na Alemanha, constatou que em 19 casos foi detetada uma deficiência de plaquetas no sangue, indicando que dos nove mortos apenas dois eram homens, com 36 e 57 anos, e todos os outros casos de trombose venosa sinusal surgiram em mulheres com idades entre os 20 e os 63 anos, de acordo com a peça da Der Spiegel.
Perante estes dados, o estado alemão de Berlim suspendeu de novo o uso da vacina com o produto da AstraZeneca para maiores de 60 anos, e Dilek Kalayci, principal responsável do departamento de saúde da região, explicou que se tratava de uma medida de precaução, antes de uma reunião de todos os 16 estados da Alemanha onde o tema será discutido.
Relatos de formas pouco comuns de coágulos sanguíneos na cabeça, conhecidos como trombose da veia sinusal, levaram vários países europeus, incluindo Portugal, a suspender temporariamente o uso da vacina da AstraZeneca, no início deste mês.
Após uma revisão do fármaco por parte de especialistas da Agência Europeia de Medicamentos, foi concluído que os benefícios da vacina superavam os riscos, embora tenha sido recomendado que médicos e pacientes deviam ser alertados para possíveis efeitos colaterais raros.
De acordo com o instituto de virologia Robert Koch, na Alemanha, um total de 2,7 milhões de pessoas já receberam doses desse fármaco.
Na Alemanha, 3.877.914 pessoas receberam as duas doses de qualquer vacina contra a covid -19, 4,7% da população, e 9.001.925 (10,8%), pelo menos uma.
Nas últimas 24 horas, 123.170 pessoas na Alemanha receberam a primeira dose da vacina e outras 44.522, a segunda.


A pandemia de covid-19 provocou, pelo menos, 2.792.586 mortos no mundo, resultantes de mais de 127 milhões de casos de infeção, segundo um balanço feito pela agência francesa AFP.


A doença é transmitida por um novo coronavírus detetado no final de 2019, em Wuhan, uma cidade do centro da China.
--- 31/03
Covid-19. Vacina da AstraZeneca muda de nome na Europa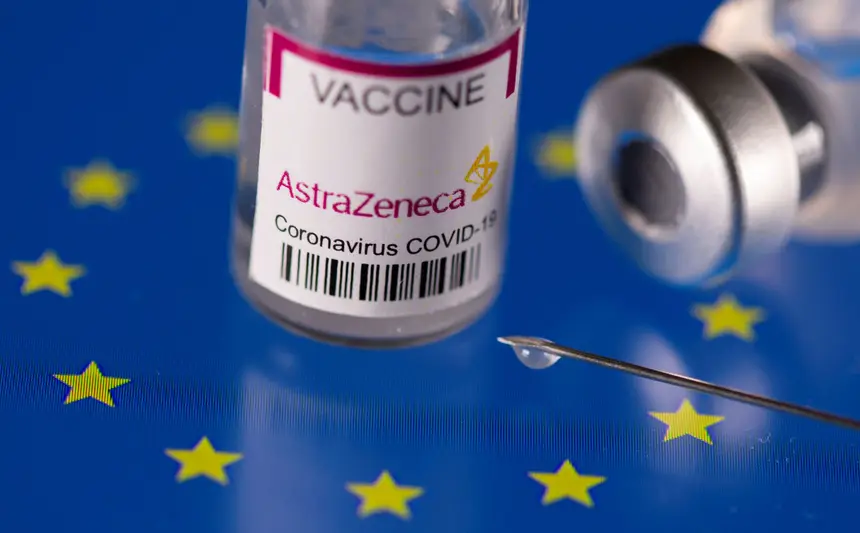 Regulador europeu autorizou esta alteração.
A vacina contra a covid-19 da AstraZeneca mudou de nome da Europa e chama-se agora Vaxzevria.
A mudança foi aprovada pela Agência Europeia do Medicamento, a pedido da farmacêutica anglo-sueca.
O novo nome surge depois de várias polémicas com a vacina, desde atrasos nas entregas à suspensão em vários países por suspeitas de formação de coágulos em pessoas vacinadas.
A mais recente suspensão da vacina aconteceu em hospitais de Berlim e Munique, que anunciaram esta terça-feira a administração em mulheres com menos de 55 anos. Também o Canadá suspendeu, na segunda-feira, a vacina a menores de 55 anos.
---- 31/03 - Vacina da Astrazeneca muda de nome

Vacina da Astrazeneca muda de nome. Passa a chamar-se Vaxzevria
Além da mudança do nome, "foi incluída na informação sobre o produto um aviso sobre eventos de coágulos sanguíneos específicos muito raros", numa altura em que estão em curso mais investigações.
Nessa atualização sobre o fármaco datada de segunda-feira, a EMA divulga que, além da mudança do nome, "foi incluída na informação sobre o produto um aviso sobre eventos de coágulos sanguíneos específicos muito raros, enquanto estão em curso mais investigações sobre uma possível relação causal com a vacina".
"As pessoas vacinadas devem procurar atenção médica imediata se ocorrerem sintomas de coagulação e/ou hemorragia do sangue", reforça o regulador no documento, insistindo que "os benefícios da Vaxzevria na prevenção da Covid-19 continuam a superar os riscos".
Nesta atualização, a EMA refere ainda que, desde a aprovação da vacina na UE em 29 de janeiro passado e até à passada quinta-feira, "mais de 10 milhões de doses de Vaxzevria foram administradas na UE e Espaço Económico Europeu", muito abaixo das 120 milhões de doses acordadas entre a farmacêutica e a Comissão Europeia para este primeiro trimestre.
Outra polémica esteve relacionada com os episódios de aparecimento de coágulos sanguíneos e da morte de pessoas inoculadas com este fármaco, que levaram a maioria dos países europeus, incluindo Portugal, a suspender por uns dias a administração desta vacina, situação ultrapassada após a garantia da EMA de que é "segura e eficaz".
Da informação do produto emitida pela EMA consta agora a indicação de que "foi observada muito raramente uma combinação de trombose e trombocitopenia, em alguns casos acompanhada de hemorragias, após a vacinação com Vaxzevria", pelo que os profissionais de saúde "devem estar atentos aos sinais e sintomas".
No que toca à campanha de vacinação europeia, até à passada quinta-feira, 18,2 milhões adultos dos perto de 400 milhões de cidadãos da UE tinham já recebido a segunda dose da vacina contra a Covid-19, levando a que só 4,1% da população europeia estivesse completamente imunizada.
Bruxelas atribuiu estes níveis baixos de inoculações aos problemas de entrega das vacinas da Vaxzevria para a UE, exigindo que a farmacêutica recupere os atrasos na distribuição e honre o contratualizado.
A meta de Bruxelas é que, até final do verão, 70% da população adulta esteja vacinada. Os dados divulgados pela instituição na passada quinta-feira revelaram também que foram já administradas 62 milhões de doses de vacinas em relação às 88 milhões distribuídas.
Atualmente, estão aprovadas quatro vacinas na UE: Pfizer/BioNTech (Comirnaty), Moderna, Vaxzevria e Janssen (grupo Johnson & Johnson, ainda não está em distribuição).
Até ao final deste primeiro trimestre, de acordo com Bruxelas, chegarão à UE quase 100 milhões de doses de vacinas, a grande parte da Pfizer/BioNTech (66 milhões, mais do que os 65 milhões inicialmente acordadas), da Vaxzevria (30 milhões de um total de 120 milhões inicialmente acordadas) e da Moderna (10 milhões).
Para o segundo trimestre, a expectativa do executivo comunitário é que cheguem 360 milhões de doses à UE, principalmente da Pfizer/BioNTech (200 milhões), da Vaxzevria (70 milhões de um total de 180 milhões inicialmente acordadas), da Janssen (55 milhões) e da Moderna (35 milhões)